Host organism:
Solanum tuberosum ssp. tuberosum cultivar Désirée (Potato)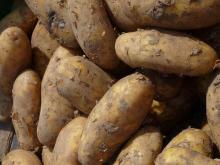 Trait:
Decreased susceptibility to late blight
Project title:
Two year field trial with genetically modified potatoes that are less susceptible to late blight
Effective year(s) of release:
Containment measures:
At least 150 m distance between the field trial and the closest non-GM potato field; the entrance of the field trial will be prohibited by a fence; the outermost potato ridges of the field trial will be planted with a non-GM potato variety; the harvesting of the whole experimental area will be done by hand and people who pick up the tubers must do everything they can to pick up all the tubers, including the smallest ones; the harvested potatoes will be transported in closed containers; all transgenic plant material will be destroyed at the end of the experiment; the trial area will remain fallow for a period of at least 12 months after the harvest of the GM potatoes; at all times during this period, seedlings and emerging tubers will be killed with a systemic herbicide every 2 weeks; during the whole monitoring period growing potatoes is not allowed and no ploughing is allowed.
Monitoring measures:
During the trial a visual control of the field trial will occur at least twice a month. After the trial, the monitoring period shall be x years. If during the year x-2, no volunteers appear, the monitoring period may be ended at the end of the year x.
Status:
Authorization procedure completed. The notifier has received the authorisation of the competent Minister to carry out the trial under specific conditions.
Type of procedure:
Standard procedure - Chapter II Royal Decree 21 February 2005
Information for the public
Information related to the decision procedure