​Any activity using GMOs or pathogens in the laboratory, animal house, greenhouse, hospital room or large-scale production installation is subject to authorisation by the regional authorities. The facilities concerned are mainly universities, government scientific institutes, pharmaceutical companies and clinical diagnosis laboratories. A few companies carrying out microbiological tests as part of product quality control or environmental monitoring are also concerned.
Since 1994 – the first year that legislation concerning the contained use of GMOs or pathogens was applied – almost 4700 motivated advices on activities relating to more than 2000 dossiers were issued in total by the SBB to the regional authorities. Of these, only two were appealed. The notifiers objected to the imposed containment measures which, in their opinion, were too severe in relation to the risk and requested that the conditions imposed in the permit be adapted. The adaptation of the conditions for use was accepted in one of the cases.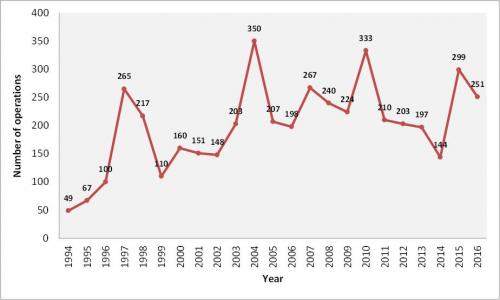 Figure: Evolution of the number of contained use activities notified per year in Belgium
During the period 2009-2017:
41% of the contained use activities involved only GMOs or GMMs;
35% of the contained use activities involved only non-GM pathogenic organisms;
20% of the contained use activities involved both pathogenic organisms and GMOs/GMMs.
4% of notified activities were considered to be outside the scope of the Decrees. In this case, authorisation for a contained use activity was not required.
All regions combined, the distribution of the contained use activities by type of installation is as follows: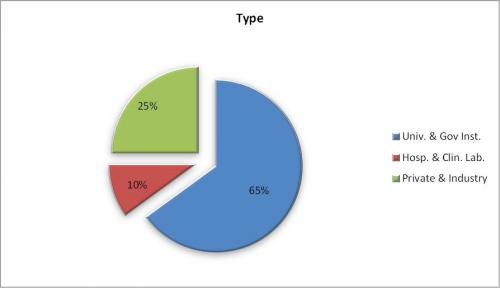 Figure: Activities per type of installation (period 2009-2017)
High-level containment laboratories
The contained use of GMOs and/or pathogens is categorised from 1 to 4 according to an increasing scale of risk. Level 3 and 4 facilities are regarded as high-level containment facilities.
In Belgium, the number of notified level 3 containment facilities currently stands at 79. This includes laboratories (L3), large-scale production facilities (LS3) and animal houses (A3). There are no level 4 facilities recorded in Belgium.
These high-level containment laboratories are home to activities such as the handling of GMMs of class of risk 3 (e.g. Hantavirus or GM Brucella melitensis), the large-scale production of certain recombinant viral vectors or the specific handling of non-GM highly pathogenic micro-organisms for man or animal (e.g. Mycobacterium tuberculosis, foot-and-mouth disease virus).
These facilities are located in universities and scientific institutes (24%), companies and private laboratories (40%) and hospitals and clinics (15%). It can be considered that all Belgium's high-level containment facilities have currently been notified.
In addition to the 79 facilities previously mentioned, there are 25 high-level containment laboratories that screen for cases of bovine spongiform encephalopathy (BSE) using rapid tests (L3-BSE). These laboratories represent a special category as they are not required to meet all the technical characteristics of a standard L3 laboratory, but rather comply with the work practices and very strict waste management, given that the prions are particularly resistant to the conventional inactivation methods.
=> See Report "High Level Containment Facilities in Belgium, Reporting period 1995-2008" ​in French or in Dutch.