Host organism:
Zea mays (Maize)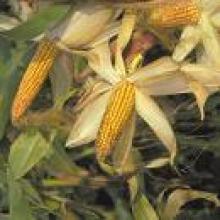 Trait:
oxidative stress resistance (superoxide dismutase), herbicide tolerance (glufosinate)
Project title:
Field trial with hybrid maize which one of the parent lines is a transgenic line containing a chimeric gene coding for superoxide dismutase
Effective year(s) of release:
Period of release:
April-May until October-November
Containment measures:
An isolation distance of 300 m to other fields containing conventional maize needs to be respected. The transgenic material also needs to be surrounded by a non-transgenic maize border of 4 rows. Before and after the experiment the cleaning of the drill will be guaranteed. At the end of the experiment the vegetative material and the non-transgenic maize border will be destroyed (incorporation into soil).
Monitoring measures:
After harvest the volunteer plants need to be controlled and destroyed. The first years after the trials, the cultivation of maize at the location of the trials will be forbidden.
Status:
- The Biosafety Advisory Council a.i. issued a positive advice (with conditions) for this field trial.- Authorization procedure completed. The notifier was granted authorization from the Federal Minister to perform the trial.
Type of procedure:
Classical procedure - Art. 9§1 of Royal Decree of 18 December 1998