Host organism:
Zea mays (Maize)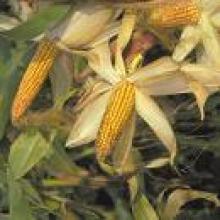 Trait:
insect resistance (European corn borer), herbicide tolerance (glufosinate/glyphosate)
Project title:
Evaluation of new insect tolerant corn lines
Effective year(s) of release:
Containment measures:
The release will be conducted in a greenhouse. The seeds will be harvested manually to prevent unintended seed loss. All traces of vegetative transgenic plant material will be destroyed at the end of the experiment. An insecticidal treatment will be applied in the greenhouse at the end of the experiment to eliminate the European corn borer (Ostrinia nubilalis) used for the artificial infestation.
Monitoring measures:
After the trial the greenhouse will be followed up by the notifier to destroy potential volunteers.
Status:
Authorization procedure completed. The notifier was granted authorization from the Federal Minister to perform the trial.
Type of procedure:
Classical procedure (repetition) - Art. 9§2 of Royal Decree of 18 December 1998
Notes:
Repetition of the following dossiers: B/BE/97/V3, B/BE/98/V1, B/BE/99/V7, B/BE/00/V8 and B/BE/01/V4. Trial in greenhouse with artificial infestation by the European corn borer (Ostrinia nubilalis). All the operations conducted during the trial will be recorded in a logbook.
Information related to the decision procedure