Host organism:
Brassica napus (Oilseed rape)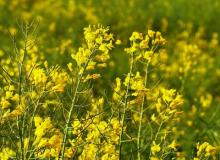 Trait:
pod shatter resistance, herbicide tolerance (glufosinate)
Project title:
Field evaluation with genetically modified pod shatter resistant oilseed rape
Location(s):
Massemen, Chimay, Deinze, Macon
Total surface:
51.000 m2 / Surface transgenic material: 5.690 m2
Status:
Authorization procedure completed. The notifier did not receive the authorisation of the competent Minister to carry out the trial.
Type of procedure:
Classical procedure (repetition) - Art. 9§2 of Royal Decree of 18 December 1998
Notes:
Repetition of the following dossiers: B/BE/99/VW3, B/BE/00/V5 and B/BE/01/V5.
Information related to the decision procedure