Host organism:
Brassica napus (Oilseed rape)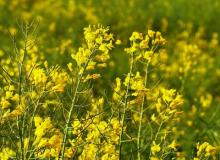 Trait:
male sterility, fertility restorer, herbicide tolerance (glufosinate)
Project title:
Selection program of parental male sterile and restorer lines obtained through genetic engineering in order to produce oilseed rape hybrids.
Year(s) of release:
1995, 1996, 1997, 1998, 1999
Effective year(s) of release:
1995, 1996, 1997, 1998, 1999
Period of release:
Spring oilseed rape: April-October. Winter oilseed rape: August-September
Location(s):
Spring 1999: Ramskapelle, Overwinden, Moerkerke, Adegem, Eeklo, Maldegem, Bassevelde, Brugge, Beernem, Moregem, Ressegem, Ouwegem, Nazareth, Eke, Asper, Oudenaarde, Kruishoutem, Ooike, Wortegem, Nokere, Waregem, Deinze, De Pinte, Chimay, Braine-le-chateua, Fleurus, Mont-St-Guibert, Tillier, Frasnes-les-Anvaing Winter 1999: Burst, Erpe-Mere, Michelbeke, Dentergem, Aalter, Wielsbeke, Beernem, Heldergem, Gingelom, Borgloon, Overwinden, Herzele, Wetteren, Oordegem, Smetlede-Lede, Bambrugge, Zonnegem, Borsbeke, Zottegem, Zwalm, Zingem, Ressegem, Kruishoutem, Nazareth, Gavere, Oudenaarde, Mullem, Latem-Zwalm, Velzeke-Zot, Petegem-Deinze, Oordegem, Aalter, Chimay, Mettet, Gembloux, Thynes, Havelange
Total surface:
In 1999: spring: 450.000 m2 / winter: 430.000 m2
Containment measures:
An isolation distance of 400 m to other oilseed rape fields will be guaranteed as well as a 6 m border of non-transgenic material. For seed production trials (MS8 and RF3) no border needs to be applied but an isolation distance of at least 800 m from commercial oilseed rape cultures must be used. Storage of harvest until EU approval. The development of the field will be followed after the trials.
Monitoring measures:
When most seeds have germinated a herbicide treatment or shallow cultivation will be applied to kill all seedlings. The next season treatments will be applied to control volunteer oilseed rape.
Status:
- The Biosafety Advisory Council a.i. issued a positive advice (with conditions) for this field trial.- Authorization procedure completed. The notifier was granted authorization from the Federal Minister to perform the trial.
Type of procedure:
Simplified procedure (continued) - Art. 9§3 of Royal Decree of 18 December 1998
Notes:
This programme was already tested in Belgium under the notification B/BE/94/W2. MS8 and RF3 have been assessed positively by the Belgian Biosafety Advisory Council in the context of the EU procedure for commercialisation (notification B/BE/96/01).